BA Tutorials
Salary Ranges for different Business Analyst positions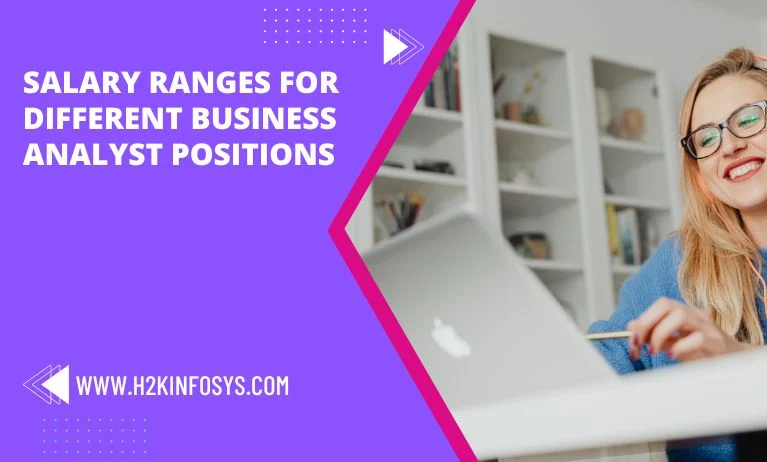 The modern business that uses data-based decision-making and problem-solving is led by business analysts. A business analyst's primary responsibility is to close the gap between an organization's IT and business sectors. They evaluate the processes, identify business requirements using data analytics, and then present findings and suggestions to interested parties.
One of your main concerns will probably be salary if you are thinking about becoming a business analyst. You might even work as a business analyst and be seeking methods to make more money. You may choose the best course of action for you by learning about the various steps you can take to enhance your wage.
People with a variety of credentials can apply for the position of business analyst. Some of them might start their careers right after graduation. Others might hold professional degrees, obtain master's degrees, take certificate courses, or receive certifications, etc., to elevate their level of education and understanding. The company might not provide the same package to candidates at the graduate and master's degree levels. The remuneration of an IT business analyst varies depending on the organization's size and needs.
Most importantly, The employee's position is another factor in determining a business analyst's wage. because a person cannot receive the same pay at every level of their career ladder. Here are the various positions of business analysts and the salary they earn.
1.Senior Business Analyst.
A senior business analyst is a specialist who aids companies in identifying possibilities to boost productivity. Senior business analysts offer thorough analysis services and strategy recommendations to a company's important partners and stakeholders. To identify the organization's financial, operational, and technology risks, they also examine business processes.

Your duties as a senior business analyst include: evaluating, maintaining, and enhancing business processes and systems, identifying the company's operational, financial, and technological risks, reporting frequently to key partners and stakeholders about any potential operational problems, assisting the company with the cost-effective use of technological advancements and solutions, and assessing the performance of multiple project teams and ensuring they achieve goals and timeframes.
The average salary of a senior business analyst is about $100,500 per year.
2.Lead Business Analyst.
A project's lead business analyst is in charge of overseeing all business analyst activities. A lead business analyst and a team of two or more business analysts are typically allocated to a significant project. Simply defined, a lead business analyst handles complete projects while collaborating with various teams within an organization.
A lead business analyst's main duties include developing, presenting, and supporting product supply estimates. The business, financial, and operational systems must be designed, planned, developed, and implemented by a lead business analyst. It serves to assist the organization's core operations and business procedures. For the purpose of assisting the business, projects, and operations, these business procedures entail gathering and evaluating data. A lead business analyst is also responsible for recording reports on found system problems with technical solutions.
The average salary of a lead business analyst is about $96,478 per annum.
3.Project manager.
This is most of the time done by an entry-level business analyst. Junior or entry-level business analysts assist in the data collecting and analysis for a company or organization, offering better solutions, integrating technology, or enhancing processes. As a beginning business analyst, you most likely collaborate with other analysts on a team to develop business solutions as you learn on the job and get more familiar with your responsibilities. Your specific responsibilities can involve creating reports, carrying out in-depth research and analysis, and helping to design solutions. You could advance to senior analyst positions with increased responsibility as you gain experience.
The average salary an entry-level business analyst earns in a year is about $58,950.
4.Senior Product Manager.
Senior Product Managers are the highest earners in Business analysis. The primary role of a Senior Product Manager in a business includes supervising the activities involved in contributing to a product line. The duties assigned to this position include initiatives to raise the profitability of the company's current products as well as the creation of new items. The Senior Product Manager uses his experience and interactions with current and potential customers to produce new and improved versions of existing goods as well as new product concepts.
A senior product manager in business is typically a person with a mix of business and technical know-how, a vision, and the drive to make that vision a reality. A senior product manager is someone who is quite at ease in their market or area.
Conclusion
A senior product manager can earn as high as $122,650 per year.
Business analysts are in high demand in the business world so it is normal that they are paid well. You can learn Business Analysis skills today by joining an online Business Analysis training.