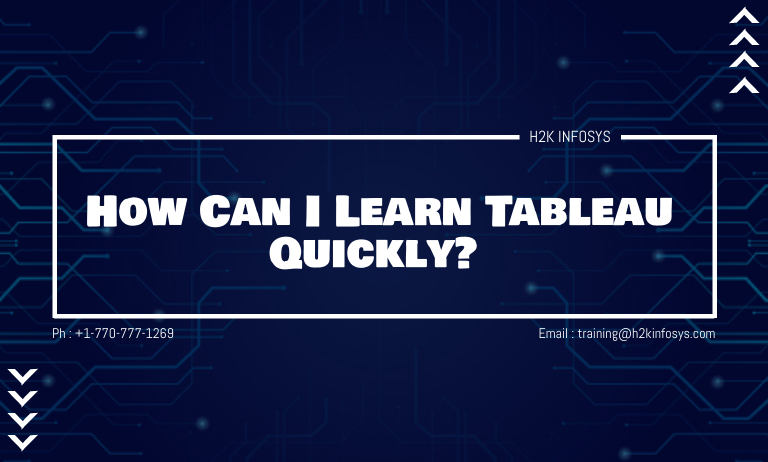 In recent years, data generation is multiplying like never before. And it is naturally creating a huge demand for data analysts and other professionals who know how to interpret the data. However, in the big data field, the major issue is dealing with different data types and providing useful results for the organization. Since data is huge, even if you can analyze and provide a detailed report, the management can't go through that in a limited time and arrive at the right strategy or decision. That is where the data visualization comes into the picture and helps the business to take appropriate actions. In the data visualization field, no tool can replace tableau, and that's why many people taking tableau training and learning this demanding skill. If you are also looking to learn Tableau and want to know the secret of learning Tableau fast, here are the top secrets for you. 
What is Tableau?
In the current digital era, there are many tools available to represent the data visually. But the top tool to visualize the data is Tableau. It was introduced in 2003, and it is an interactive data visualization platform that lets users create graphs, charts, graphics, and other interactive reports without the need for code. This tool can be installed on a desktop for visual analytics or as server solutions for mobile and online reports. It lets you connect to any database and create visually appealing visualizations that are easy to share with simple clicks. In the present day's massive data sets, Tableau is the ideal choice since it produces the result very quickly after analyzing the huge amount of data. That is the reason people enroll in the best tableau training course.
Why learn Tableau?
Using this tool, the decision-makers can easily understand the big data set by looking at the simple visual representations. Thus, tableau is getting more attention, and more people are looking to learn Tableau and get a good start to their career. The key advantage of Tableau is as follows.
It is easy to use.
It is compatible with different data sources.
Tableau is powerful, and it handles huge data.
Real-time reporting is possible in Tableau.
One can create visually appealing and interactive dashboards using Tableau.
Top tips to learn Tableau fast
Look at graphs and reports created using Tableau.
The best way to learn anything is by observing carefully. Look at the Tableau reports and dashboards created by other users online.
Follow the community
Tableau has a big community and subscribing to this will allow you to learn many things. It would allow you to get help if you are stuck in any problems. The fellow learners can provide the solutions and provide a great platform to interact and share ideas.

Read
In this digital era, reading books is also an effective way. The top starter books such as Tableau Your Data by Daniel G Murray, Ben Jones's Communicating Data With Tableau are the top ones.
Practice
There is no substitute for sincere practice. If you want to excel in any subject or a new skill, practicing is essential. The first thing you must do is download the Tableau on your desktop and start your journey. First, explore its features, and use Tableau Public to create interactive visualizations. To make your learning stronger, daily reserve some time and stick with your plan to succeed in your goal.
Use free datasets
To make your practicing stronger, you must use the free data sets available online. You can find many free data sets in Tableau forums and other public sets. So, there is no shortage of resources if you want to practice and advance in your career path.
Enroll in the Tableau courses
The best way to learn any technical skill is by enrolling in the best tableau course. This is the best way to learn if you lack self-discipline. The online courses designed in such a way that it keeps on reminding the students if they are out of sync. You can see different types of tableau courses H2K Infosys and make your learning stronger. 
Get involved
To learn more, you must share your ideas with other people. The more you share, the more you can learn. Hence get involved in the Tableau community and other user groups.